meeven though it is usually cold and wet, January is our favorite month, because vegan food is everywhere. Supermarket shelves are full, shopping street menus are packed, and most of our friends are eating it. Cold weather calls for warm, hearty foods, and today's mushroom stroganoff and nooch risotto deliver that. Nooch, also known as nutritional yeast, is a wonderful source of vegan umami and vitamin B12, while mushrooms are fully loaded with essential vitamins and minerals; they also have a really satisfying meaty texture that is great for anyone trying a plant-based diet.
Mushroom Stroganoff (pictured above)
This is super simple yet ridiculously effective: deliciously tender mushrooms in a rich, flavorful sauce with mild, delicious spices. Serve with rice, mashed potatoes, or pasta for great comfort food and comfort food.
Duties 15 minutes
to cook 55 minutes
It serves 4
600g of mushrooms
3 vegetarian sausages
Salt
3 tablespoons light olive oil
½ teaspoon ground black pepper
¾ teaspoon dried thyme, or the leaves of 2 fresh twigs
½-1 teaspoon peppers (Optional)
some scripts Vegan Henderson or Worcester Relishcounty sauce (Optional)
200g basmati rice
1 large onion (about 200g)
for the sauce
2-3 teaspoons dijon mustard
350 ml dairy-free barista-style milk
15g oat flakes
juice of 1 lemon
1 small bunch fresh parsley
First, get the mushrooms going: thinly slice about half of them, and thickly slice the rest. Chop the vegetarian sausages into 3 cm pieces. Heat a tablespoon of oil in a saucepan or frying pan over medium-low heat, add the mushrooms in thin slices, the sausages and a pinch of salt, and cook, stirring every few minutes, for 20 minutes.
Mix pepper, thyme, paprika, and Henderson's or Worcestershire sauce, if using, lower heat and simmer an additional five minutes, until mushrooms are reduced and well dried; transfer to a plate and reserve.
Meanwhile, cook the rice. Rinse the rice under cold running water and place it in a saucepan. Put the saucepan on the heat, add 600 ml of freshly boiled water and a pinch of salt, cover and bring to a boil. Stir once to loosen, then lower the heat to a very low simmer, cover and cook for exactly 12 minutes. Remove the pan from the heat and set it aside, still covered, but with a little space for steam to escape.
To make the sauce, Measure mustard, milk, and oatmeal into a blender, add lemon juice, then blend.
Cut in half, peel and chop the onion. Add the rest of the oil to the pan you cooked the mushrooms in and turn the heat to medium. Add the onion and cook for about eight minutes, until softened and beginning to color. Add the thickly sliced ​​mushrooms, cover and cook for a further five minutes, stirring occasionally until soft.
Reduce heat to low, add blended sauce and reserved mushroom mixture and heat 10 minutes.
Season to taste, then arrange the rice in four bowls, pour over the stroganoff, sprinkle with fresh parsley, and serve.
Mushroom and nooch risotto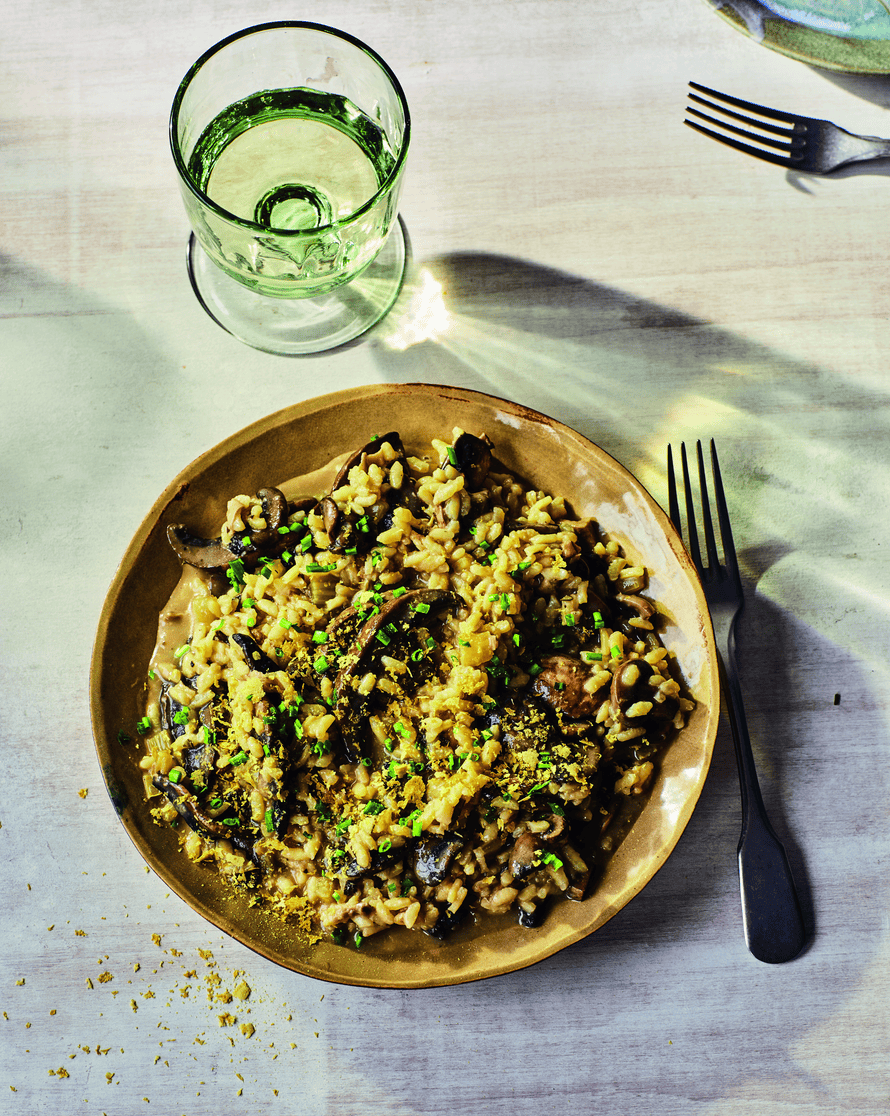 This deliciously creamy and rich risotto takes nooch to the next level.
Duties 15 minutes
Soak 30 minutes
to cook 55 minutes
It serves 4
15g dried boletus (Optional)
500g of mushrooms
1 onion
1 stick of celery
salt and black pepper
4 cloves of garlic
2 tablespoons olive oil
4 sprigs of fresh rosemary and thyme
300 g of arborio rice for risotto
150 ml of white wine
25g nutritional yeast, and more to sprinkle
1.4 liters of vegetable broth
one tablespoon dairy-free butter
1 lemon
dairy free cheese (Optional)
8 fresh chives (Optional)
Place the porcini, if using, in a bowl, cover with boiling water, and let soak for 30 minutes. Cut the 500 g mushrooms into thin slices.
Peel and finely chop the onion, celery and garlic. Put a large saucepan over medium heat and add a tablespoon of oil. Add the onion, celery, and a pinch of salt, and sauté, stirring regularly, for five minutes, until softened.
Set aside a sprig of rosemary, then remove the remaining leaves and thyme and chop finely. Drain and finely chop soaked porcini, if using. Add half the garlic to the onion pan, saute for 30 seconds, then add the minced herbs, porcini, rice, and a generous pinch of salt and pepper, and stir for another minute. Add the wine and nutritional yeast, and stir until all the liquid has been absorbed.
Add about 200 ml of broth and cook, stirring, for three to four minutes, until everything has been absorbed. Repeat for about 20-25 minutes, until all the broth has been used and the rice is cooked but still firm.
Meanwhile, put a second skillet over medium heat and add the remaining oil, mushrooms, and garlic, along with a generous pinch of salt and pepper. Add the reserved whole sprig of rosemary and cook for 10 minutes, until the mushrooms are dry and all the liquid has evaporated.
To finish the risotto, add the dairy-free butter, then cut the lemon in half and squeeze over its juice. Taste and add more salt, pepper, or lemon if needed. Let stand for two minutes, then divide the risotto among four plates and top each portion with the mushrooms. Finish with a sprinkle of dairy-free nooch and/or cheese, if using, and some fresh chives.